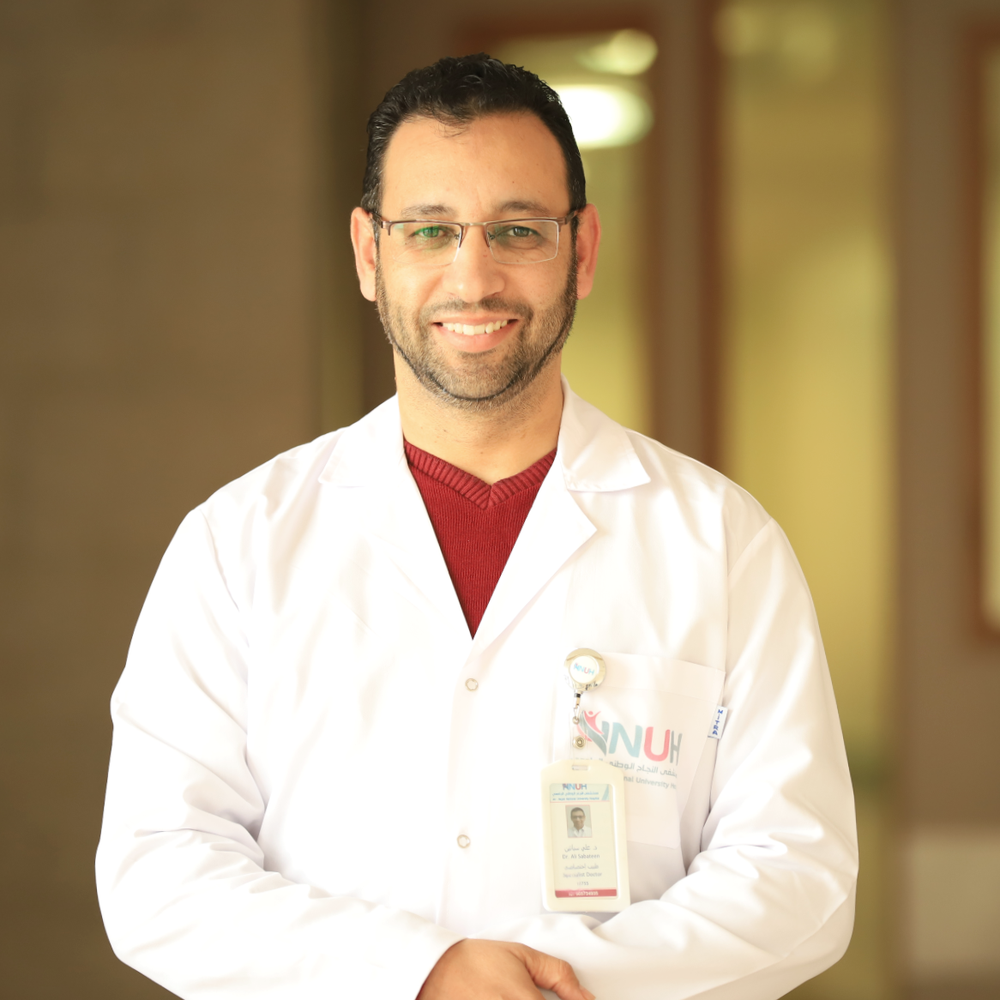 Infectious Diseases Consultant
Saturday Wednesday
9am-2pm
Dr. Ali Sabatin has been practicing medicine since 2007. He is a specialist in infectious and communicable diseases and currently works as the head of the Infectious and Communicable Diseases Unit at the Al-Najah National University Hospital.
He studied Human Medicine at Rostov-on-Don University in Russia and graduated in 2005. He specialized in Internal Medicine and later in Infectious and Communicable Diseases at Hadassah Ein Kerem Hospital in 2014. Dr. Ali has published 10 research papers, with one of the most prominent being "Characteristics, Risk Factors, and Prevalence of Clostridioides difficile Among Hospitalized Patients in a Tertiary Care Hospital in Palestine."
Additional Skills:
Dr. Ali is proficient in English, Hebrew, and Russian languages.
He obtained his medical degree from the Faculty of Medicine at Rostov State Medical University.

He holds a fellowship in Infectious Diseases and Clinical Microbiology from Hadassah Hospital.

He is the head of the Infectious Diseases Unit at Augusta Victoria Hospital.

He is the chairman of the Infection Control Committee - AVH.

He established a program for supervising antimicrobials and led the team at the hospital.

He leads the national initiative for antimicrobial stewardship in 22 hospitals and serves as a senior consultant for infectious cases in the WhatsApp group for all 22 hospitals.

He is a member of the Oncology Council Committee.

He is an active member of the Diseases and Deaths Committee.

He is the director of the Internal Medicine Residency Program at Augusta Victoria Hospital.

He is the head of Infection Prevention and Control at St. Joseph Hospital.

He chairs the Infection Prevention and Control Committee at the Arab Society for Rehabilitation in Bethlehem.

He is a member of the Professional Combatting Society and Epidemiology Association.

He is a member of the Palestinian Jordanian Physicians Syndicate.

He is a member of the Israeli Infectious Diseases Committee.